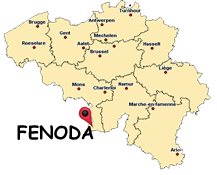 The farm "Ferme Notre Dame" is located in the midst of the forests and fields of Seloignes (a commune of Momignies, between Chimay and the French border).

In this charming environment FENODA offers various activities, such as camping on the farm, renting of yurt or tipi, horseback riding and hippotherapy, organisation and housing of various camps, workshops and stays for individuals & groups with special needs. We also gladly take care of your embroidery
The name "FENODA" is derived from the name of the farm (take the first two letters of each word).
Mirjam and Frank left their life near the Belgian capital in order to realise their dream in this charming farm.

They rent appartments to people with a disability and offer them support in their daily life and a useful occupation at the farm.

Together with the residents Frank & Mirjam will give you the warmest welcome and take great care to make your stay as pleasant as possible.
rust, paarden en zoveel meer - quiétude, chevaux et bien plus - peace, horses and much more